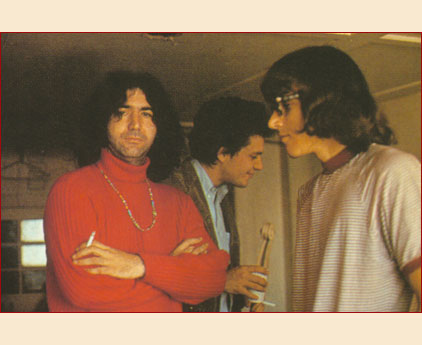 garcia-bloomfield-kaukonen
INTERVIEW - ROLLING STONES - 1968
Mike Bloomfield :
"je n'aime pas les groupes de San Francisco. j'aime San Francisco et tous ces gars mais je trouve que ce sont des amateurs. Quelques uns ne le sont pas - les gars de Moby Grape ont gagnés leur réputation en jouant dans des clubs depuis pas mal de temps.
C'est un étonnant mixage de musiciens. Jack Casady est aussi un gars qui à pas mal roulé sa bosse et peut jouer n'importe quoi.
Je me souviens la première fois que j'ai entendu Quicksilver, je me souviens de l'Airplane qui était alors le meilleur, le plus arrangé des groupes West-Coast. Je me souviens de Chet Helms qui s'occupait de Big Brother, la première fois que je les ai tous entendu jouer, je ne pouvais croire à leur réussite tellement je les trouvaient amateur, certains savaient à peine jouer de la guitare électrique".
"j'accroche pas à "Good Morning Little Schoolgirl" des grateful Dead, je n'aime pas quand Pig Pen se met à chanter du blues, ça ne sonne pas blues. ça sonne comme un petit blanc qui essai de chanter le blues. ce n'est pas funky. ils n'ont pas un bon rythme. ce n'est même pas une bonne imitation. ce n'est même pas comme les Stones.
Country Joe & the fish est une abomination.

Carlos Santana :
"je peux comprendre pourquoi Michael critiquait la scène de San Francisco, à l'époque, je ressentait la même chose.
Quand j'allais au concert, on voyaient souvent les 3 mêmes groupes (Dead, Airplane, Quicksilver)
je trouvais que c'était une scène d'ou émergeait pas mal de nouvelles idées par contre musicalement c'était médiocre..."
Nick Gravenites :
"Quand Butterfield joua pour la première fois sur la côte-Ouest avec Michael et son groupe, les gens n'en revenait pas - Wow, ces gars savent jouer.
les musiciens de la côte-ouest venaient juste de démarer. ils venaient juste de troquer leurs guitares acoustique pour une éléctrique.
A Chicago Butterfield & Bloomfield jouaient du blues électrique depuis le début des 60'".
Dernière édition par Bloomers le 14.04.15 23:33, édité 1 fois

Bloomers




Messages

: 2749


Date d'inscription

: 15/04/2008


Age

: 45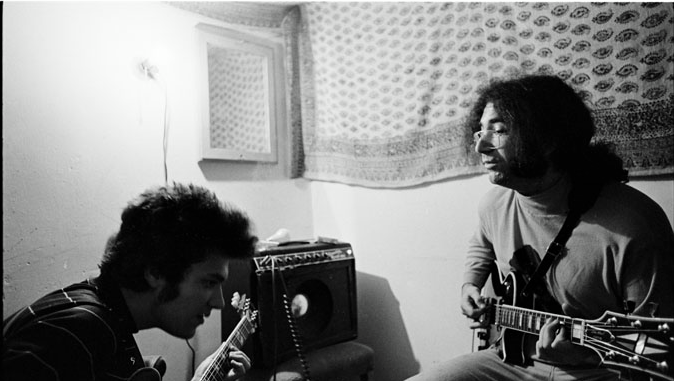 Lydon: Did you read in Rolling Stone a long time ago the whole Mike Bloomfield […] thing?
Garcia: No I didn't…
Lydon: Oh. They really put you down – I think Bloomfield particularly.
Garcia: Oh, I didn't read it, no, what did he say?
Lydon: Well, just said it was shit.
Garcia: Well he's entitled to his opinions.
Lydon: […think that he could know better.]
Garcia: Who knows, man – I mean, it might very well be that that interview might have been after he might have seen us on a night when it was shit, or depending what he was referring to. Maybe he…I don't know. I don't know where Mike's head is at, really. I know that he feels very strongly about purity, a certain kind of purity it seems, because the things – not necessarily his playing, but when he does arrangements and production and stuff like that, he gets it so it's right, for what he's doing, I mean really righteous; and it might just be that what we do violates his aesthetic. I don't know, I can't really tell; you can't know about things like that. But the thing about interviews and the thing about music is that you can say anything you want, man; it's cool. It's cool because the experience is such that you can like it or not like it or go out of your mind or leave in a rage or any fucking thing, I mean, it's cool to do it – music is something you can hang any fucking thing on and it's okay. (Lydon: Yeah.) […] Rolling Stone now, because of music, Rolling Stone has something to talk about – half the battle of life in this world is something to do, something to just pass the time away, man, just something to do. And talking about stuff is doing something. (Lydon: Yeah.) So providing an excuse for talking, man, is okay. It just means that somebody's gonna have something to talk about; it's all right. And so if you're gonna put stuff out like a record or something like that, put something out that anybody can say anything about, so that it leaves a big open door for stuff to talk about instead of a little narrow door; or lots of things to talk about instead of one thing to talk about; whatever.
Dernière édition par Bloomers le 14.04.15 23:34, édité 1 fois

_________________
"The Music You Listen To, Becomes The Soundtrack of Your Life..." MB

Bloomers




Messages

: 2749


Date d'inscription

: 15/04/2008


Age

: 45



J'imagine que cotoyant intimement les Bluesman de Chicago Bloomfield avait une haute opinion de ce que c'est de jouer du Blues. On ne sort certaienement pas indemne de virée avec des gars comme Big Joe Williams et compagnie. Ceci dit certains trucs en solo de Bloomfield ne sont pas franchement très inspirés ca saute un peu du coq à l'âne
Après je pense que ca arrive à tous les musiciens de critiquer les autres surtout si ils ont du succès
---
Permission de ce forum:
Vous
ne pouvez pas
répondre aux sujets dans ce forum