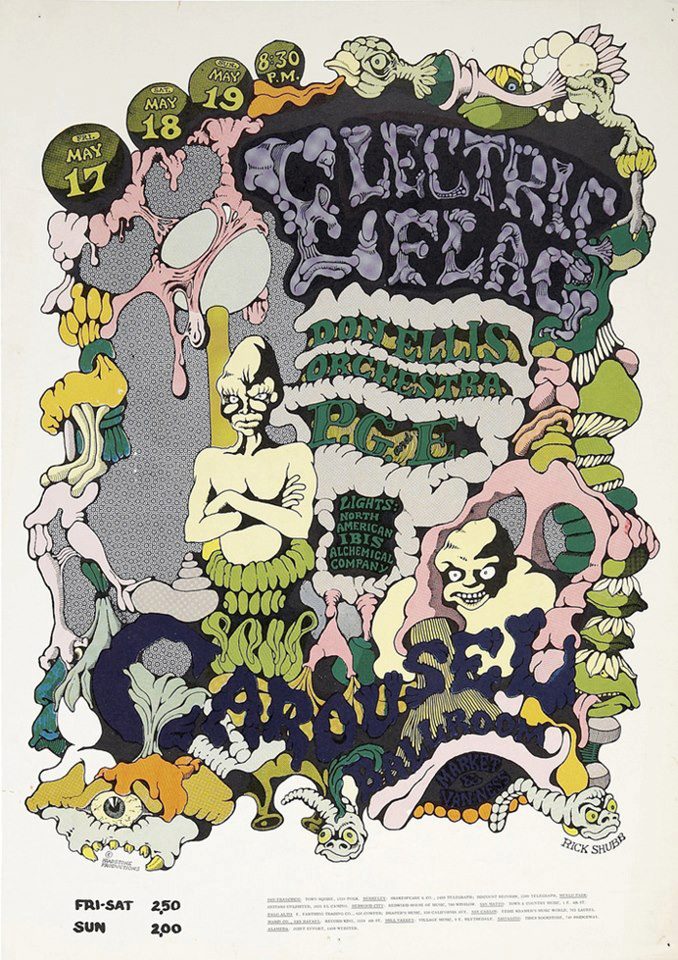 THE ELECTRIC FLAG LIVE !!!
Mike Bloomfield - guitar
Nick Gravenites - vocals
Barry Goldberg - piano
Harvey Brooks - bass
Buddy Miles - drums, vocals
Herbie Rich - organ, baritone sax
Marcus Doubleday - trumpet
Peter Strazza - tenor sax
Guest:
Erma Franklin - Vocals*
Virgil Gonzales - baritone sax
Location : Carousel Ballroom, San Francisco, CA
Date : 21/04/1968
1st Set
01. Medley (Uptight-Day Tripper)
03. Drivin' Wheel
04. The Theme
05. Goin' Down Slow
2nd Set
01. Introduction*
02. Big Boss Man*
03. I Heard It Throug The Grapevine*
04. Mercy*
05. Tell Mama*
06. Chains Of Fool*
07. Piece Of My Heart*
08. Hold On I'm Coming*
STREAMING
http://ia902701.us.archive.org/13/items/ElectricFlag1968-04-20CarouselBallroomSanFrancisco/ElectricFlag1968-04-20CarouselBallroomSanFrancisco.mp3?cnt=0
Location : Carousel Ballroom, San Francisco, CA
Date : 18/05/1968
1st Set
01. Soul Searchin'
02. Tuning
03. Milk Cow Blues
04. Tuning
05. I'd Rather Drink Muddy Waters
06. Groovin' Is Easy
2nd Set
01. Intro/Warm Up Instrumental
02. Instrumental
03. Texas
04. Hey Joe
05. It Takes Time
06. Tuning
07. I've Been Loving You
08. Another Country (Cut)
09. Ain't No Doctor (Cut)
10. Tuning
11. Don't Lie To Me
12. Tuning
13. Soul Searchin'
STREAMING
http://ia902205.us.archive.org/33/items/electricflag1968-05-18/electricflag1968-05-18.mp3?cnt=0

Voici un concert ENORME de l'Electric Flag...qui démontre bien la puissance du groupe en concert...rien à voir avec leurs enregistrements studios !
Je possédais déjà quelques bootleg du flag (malheureusement avec un son vraiment pourri) sur celui-ci le son est excellent!!!
La guitare de Bloomfield est omniprésente, les solos sont monstrueux !!!
Cette fois-ci la batterie de Buddy Miles est prodigieuse tout comme les cuivres qui finissent presque par exploser mon ampli !
This three day run at the Carousel Ballroom was a feast for horn section fans, as it featured Pacific Gas and Electric, Electric Flag and Don Ellis and His Orchestra. Due to popular demand, a matinee show was added. Although Electric Flag was scheduled as the headliner for these shows, they opted to go on second to allow Don Ellis and His Orchestra to close the shows. These sets feature the original Electric Flag lineup, towards the end of founder, Michael Bloomfield's, involvement. He would depart shortly thereafter, leaving the band to struggle onward for several months before disbanding. At this point in time, however, the band was full of fire and highly influential. Their unique blend of soul, rock and blues, punctuated by horns, certainly did not go unnoticed. Later that year, Al Kooper would create a similar band, Blood Sweat and Tears, and Chicago Transit Authority would also later employ the formula - both to far greater commercial success. It was Electric Flag, however, who created the template, and they who were most diverse (and affecting) musically. Bloomfield's incendiary guitar playing during this time period scorched a path that few (if any) other white guitar players could really follow, particularly when his band was exploring the blues.
This evening show is one of the best Electric Flag performances ever captured on tape, and includes a wealth of material that was never commercially released. The tape mix, unfortunately, is continually being adjusted and improved during the first 5 songs, but by the 5th song, it is near perfect and everything it captures is played with passion and fire. Prior to the band's introduction, some playful wackiness is heard from onstage, and may be a clue to the band's altered state of mind. Following the introduction, they kick things off with a few quick warm-up exercises. The first is a swinging instrumental (title unknown, but the tune's familiar), which sounds like a big band number from the 1940s, followed by a second instrumental that moves along the lines of Booker T & the M.G.'s "Green Onions" then veers off into a nice little jam. Bloomfield is very low in the mix at this point, but you can still hear him simmering away (tape mix adjustments are still audible). Buddy Miles then assumes vocal duties for their popular first album track, "Texas" (Again, the tape mix is changing here and there, but getting gradually better with each adjustment). This song would soon be covered by many other blues artists, including Texas natives Johnny Winter and Janis Joplin, the latter of whose slightly rearranged duet version ("Ego Rock") with Gravenites was posthumously released on her 

In Concert

 album.
Next up is Electric Flag's take on "Hey Joe," with Buddy Miles again singing lead. Taken at a slightly slower pace, but with an obvious nod to the Jimi Hendrix Experience arrangement, the number features some searing guitar work from Bloomfield, with the entire band playing extremely well. Gravenites steps back up to the microphone for another track from their album, "It Takes Time." This is a great shuffle and thankfully, about two minutes in, the final adjustments are made to the tape mix and it sounds wonderful. Bloomfield's guitar is cranked up in the mix, the horns are balanced and the playing begins to smoke! It's no wonder that this song would be one of very few Flag originals that would remain in Gravenites' and Bloomfield's repertoire long after the band broke up. Of particular note is Bloomfield's laid back solo approximately three minutes in; the band drops way down low, allowing him to play in a delicate manner with an extraordinarily sweet tone. Following a minute or so of tuning, the group tackles Otis Redding's classic "I've Been Loving You Too Long." Buddy Miles does a respectable job with the soulful vocal arrangement and the band takes their time exploring the nuances of the song for almost eight minutes. At its conclusion, they immediately begin their most adventurous original, "Another Country." Much to the dismay of anyone into the Flag, the master reel ran out two minutes in, just as they are beginning the psychedelic meltdown section. Ouch! It's a shame, but the reel change was not attended to immediately and approximately 10 minutes of the show was missed. When the recording resumes, we find the next song already in progress. The second reel continues as the band is tearing it up on "Ain't No Doctor," another smoldering blues tune that never made it on a Flag album. The band is firing on all cylinders by this point, and Bloomfield's guitar playing is gradually reaching higher levels of expressive intensity.
One of the great highlights of this performance is next- a fantastic cover of Albert King's "Don't Lie To Me" that sizzles from beginning to end. Bloomfield takes a rare lead vocal and his passion for this song is obvious and infectious. Although the group scored well on the album charts and pleased rock audiences, neither Bloomfield nor Goldberg lost their love for the blues, and this tune is a sound testament to the fact. By the end, Bloomfield is absolutely shredding on guitar.
Following a brief discussion of how much time they have left, the band decides to give "Soul Searchin'" another workout (the only song repeated from the early show, performed when Bloomfield hadn't arrived yet). With Bloomfield included, the difference between this and the matinee version is like night and day. The band really sink their teeth into this funky bugaloo (as Bloomfield describes it). Unlike the matinee version, which focused mostly on the sax as lead instrument, the evening finds Bloomfield leading the way, and taking the tune to radically different places. Buddy Miles gets a brief solo opportunity to showcase his remarkable footwork, and all the while, Bloomfield's guitar work smolders in the background.
The Flag wouldn't be able to contain so much talent in one band for much longer. Bloomfield would soon depart, and without his leadership, the group would fall apart. The following year a similar situation would develop after Blood Sweat and Tears released their first album, and founder Al Kooper and Bloomfield would begin working together. Gravenites and the horn players would be recruited to help Janis Joplin build her first post-Big Brother Band. Goldberg would begin a solo career. Harvey Brooks would go on to play with Miles Davis on his groundbreaking 

Bitches Brew

 album and Buddy Miles would hook up with Jimi Hendrix. Much amazing music would follow, but for a brief time, they were all together in the Electric Flag, and remain here, captured on one remarkable recording.
Dernière édition par Bloomers le 15.04.15 15:46, édité 2 fois

Bloomers




Messages

: 2749


Date d'inscription

: 15/04/2008


Age

: 48



Je n'ai que le second set du 18/05/1968, très intéressant. Il est surprenant que de constater que, dès cette époque, Buddy Miles chantait autant. De quoi créer des tensions avec Nick Gravenites pour sûr !
Bloomers a écrit:Location : Carousel Ballroom, San Francisco, CA
Date : 21/04/1968

1st Set
01. Medley (Uptight-Day Tripper)
03. Drivin' Wheel
04. The Theme
05. Goin' Down Slow

2nd Set
01. Introduction*
02. Big Boss Man*
03. I Heard It Throug The Grapevine*
04. Mercy*
05. Tell Mama*
06. Chains Of Fool*
07. Piece Of My Heart*
08. Hold On I'm Coming*
Sauf erreur de ma part, il y a plus (je n'ai pas le pirate en question) :
Disc 1
Track 101. Uptight
Track 102. Day Tripper
Track 103. Drivin' Wheel
Track 104. Drivin' Wheel continued
Track 105. The Theme [Electric Flag's solo instrumental is a cover of Miles Davis' The Theme]
Track 106. Goin' Down Slow
Track 107. Big Boss Man
Disc 2
Track 201. Dr. Feelgood
Track 202. I Heard It Through The Grapevine/Mercy/Tell Mama/Chain of Fools
Track 203. Piece of my Heart
Track 204. Hold On I'm Coming
Encore
Track 205. Everyday I Have The Blues
Track 206. Killing Floor
http://bigozine2.com/roio/?p=29
l'intégrale est sur Wolfgang vault

Bloomers




Messages

: 2749


Date d'inscription

: 15/04/2008


Age

: 48



---
Permission de ce forum:
Vous
ne pouvez pas
répondre aux sujets dans ce forum