LES TITRES...
Songs written by Ritchie Blackmore and Candice Night, except where noted.
"Written in the Stars" – 4:49
"The Times They Are a Changin'" – 3:33 (Bob Dylan cover)
"I Still Remember" – 5:42 (Blackmore/Night/Traditional)
"Home Again" – 5:28
"Crowning of the King" – 4:32 (Blackmore/Night/Traditional by Tielman Susato)
"Fayre Thee Well" – Instrumental 2:08 (Written by Blackmore)
"Fires at Midnight" – 7:36 (Blackmore/Night/Traditional by King Alfonso The 10th)
"Hanging Tree" – 3:47
"The Storm" – 6:12
"Mid Winter's Night" – 4:30 (Blackmore/Night/Traditional)
"All Because of You" – 3:37
"Waiting Just for You" – 3:17 (Blackmore/Night/Traditional by Clarke)
"Praetorius (Courante)" – Instrumental 1:57 (Traditional by Michael Praetorius)
"Benzai-Ten" – 3:52
"Village on the Sand" – 5:04
"Again Someday" – 1:42
Bonus tracks
"Possum's Last Dance" – Instrumental (2:41) (Written by Blackmore) (European version only)
"Sake of Song" – 3:13 (US and Japan version only).
LES MUSICIENS.
Ritchie Blackmore – electric and acoustic guitars, hurdy gurdy, mandolin, renaissance drums, tambourine
Candice Night – lead vocals, backing vocals, pennywhistle, shawms, harp, recorder, electric bagpipes
Sir Robert of Normandie (Robert Curiano) – bass, backing vocals
Carmine Giglio – keyboards
Chris Devine – violin, viola, recorders, flute
Mike Sorrentino – drums
Richard Wiederman – trumpets
John Passanante – trombone
Pat Regan – keyboards
Albert Dannemann – bagpipes on "All Because of You".
.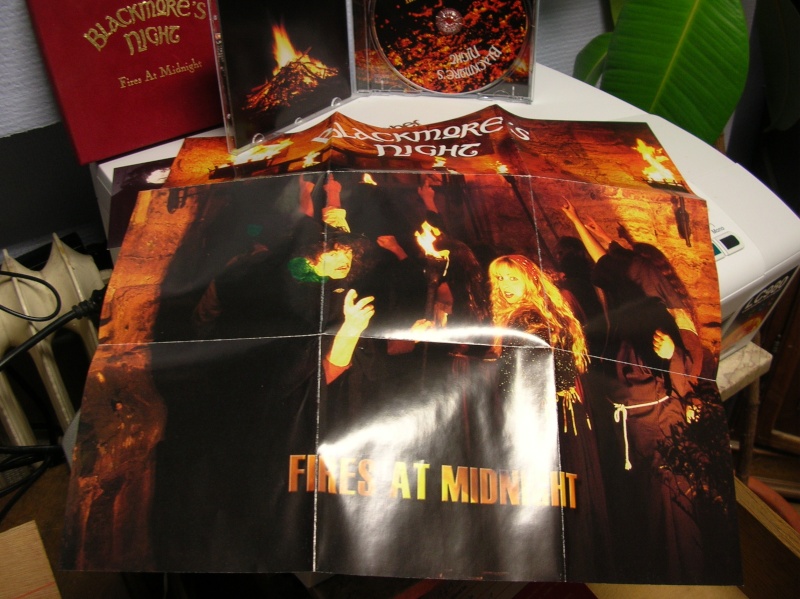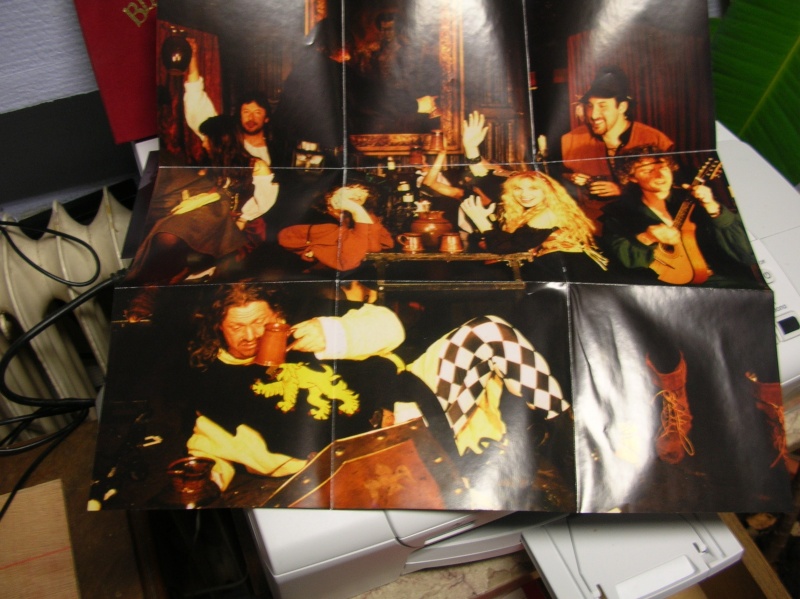 Faire de la musique Renaissance teintée d'une légère touche de rock est un exercice complexe, ne pas tomber dans la facilité ,les clichés .
Les deux premiers opus du couple Blackmore Night sont des réussites et je craignait avec "Fire at midnight" une forme de répétition , ils n'en ai rien, ils réussissent a maintenir un style (malgré une ou deux faiblesses)...je voyage donc dans le passé...L'album composé par BN(ne pas confondre avec les biscuit)et emprunte souvent aux "tradionnels" le tout arrangé par Ritchie Blackmore très inspiré..
Le ton est donné avec Written in the stars, les progrès de Candice sont évidents, elle commence seule tenant le note, s'ensuit une cavalcade de musiciens qui montent en puissance au fil de l'intro, fermant les yeux j'imagine très bien la scène...l'entrée au château ou pénètre une troupe de cavaliers, c'est fort on s'y croirait.
They are a changin, une chanson de Bob Dylan nous est offerte ici dans un style folk, très réussi encore grâce a la voix de la Damoiselle..
Une titre comme I still remenber même avec l'accompagnement de Ritchie est une ballade un peu mollassonne ,mais finalement cela possède un certain charme..Ce que j'attends toujours (un peu comme les premiers Whitesnake) c'est les chansons festives, les chansons à boire, Home again en fait partie, j'imagine la scène, le grand feu dans la cheminée, tous autour de la table 'choquant" nous gobelets en étain...rires, accolades.
Comme cela l'album nous fait voyager dans ce paysage, des petits moments piochés dans la musique des troubadours, Mid winter's night ou les paroles sont issues d'une vielle chanson de Noël provencale.
La petite faute viens de All beacause of you, un peu trop nunuche.
Dans l'album vous trouvez un instrumental PRAETORIUS(courante), un morceau de Michael Praetorius, compositeur d'hymnes de l'Allemagne protestante..
Merci Christian; ça date de quand cet album ?

Blueleader




Messages

: 7793


Date d'inscription

: 24/02/2010


Age

: 59


Localisation

: entre mulhouse et belfort



2001...tiens il est pas mal mon radiateur...
christian a écrit:2001...tiens il est pas mal mon radiateur...

Blueleader




Messages

: 7793


Date d'inscription

: 24/02/2010


Age

: 59


Localisation

: entre mulhouse et belfort



Sujets similaires
---
Permission de ce forum:
Vous
ne pouvez pas
répondre aux sujets dans ce forum