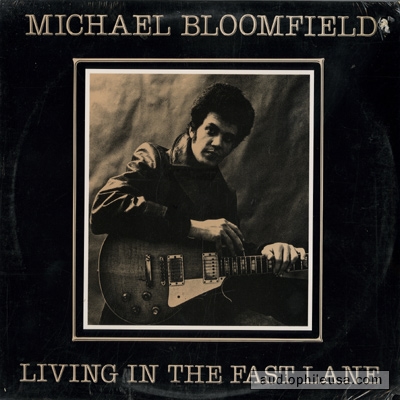 Michael Bloomfield : Living In The Fast Lane (1981)
Michael Bloomfield : Electric & Acoustic guitars, piano, organ, percussion, bass, tambourine, vocals (5,6,8)
Mark Naftalin : Piano, synthesizer, electric piano
Roger Troy : Bass, vocals (2)
Bob Jones : Drums, bass, vocals (4)
George Marsh : Drums
Frank Binner : Vocals (1)
Clay Cotton : Keyboards
Carl Severeid : Bass
Dwight Dailey : Drums
Mark Adams : Harmonica
side 1
01. Maudie (3.06)
02. Shine On Love (4.51) recorded in 1973
03. Roots (3.30)
04. Let Them Talk (5.04) recorded in 1973
05. Watkin's Rag (1.43)
side 2
01. Andy's Bad (3.50) - Taken from the original Andy Warhol movie score 1977
02. When I Get Home (4.20) recorded in 1973
03. Used To It (2.43)
04. Big C Blues (3.31)
05. The Dizz Rag (3.34)
"Living In The Fast Lane" est une compilation de fond de tiroirs qui venait juste de sortir avant la mort de Bloomfield au USA, elle est donc un peu condidéré comme la première compilation posthume du guitariste...
MAUDIE
pas de date mais ça sent le millieu des seventies; c'est un bon titre de rock & roll moderne, on reconnait Mike dés la première note, très en forme, le chanteur (frank binner) fait également du bon boulot...Il faut dire que ce genre de titres étaient devenu très rare dans son répertoire à l' époque...
SHINE ON LOVE / LET THEM TALK / WHEN I GET HOME
viennent de son second album studio-solo "Try It Before Your Buy It"  (jamais distribué), ce sont principalement des adaptations de gospel chanté par Roger Troy.
ROOTS / USED TO IT / ANDY'S BAD
sont des tentatives ratés de disco/funk...
WATKINS RAG / DIZZ RAG
Superbes rag instrumentaux dans la ligné de ceux disponibles sur ses albums solos...
Pour fan uniquement !



Messages

: 2749


Date d'inscription

: 15/04/2008


Age

: 43




---
Permission de ce forum:
Vous
ne pouvez pas
répondre aux sujets dans ce forum